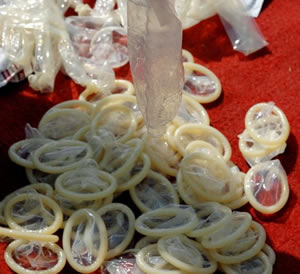 A THIRTY-seven-year-old man, in a bizarre incident at Ndola Central Hospital on Wednesday, vomited two condoms containing liquids suspected to be illicit drugs.
Hospital public relations officer, Sheona Chalimbana said in an interview that Danny Chilumbi, of house number 4432 Chifubu Township in Ndola, vomited two condoms with liquids suspected to be drugs.
Mr Chilumbi went to the hospital complaining of diarrhoea, but when he was given some medicine, he vomited two condoms containing suspicious liquids.
The condoms were both tied with black strings at the top.
"After he was treated, he vomited out two condoms containing liquid substances that we suspect could be drugs, and so we have handed over those condoms to the Drug Enforcement Commission (DEC)," Ms Chalimbana said.
She said Mr Chilumbi was restless and could not communicate anything as he was in an unstable condition.
He was still vomiting other substances by press time yesterday.
Ms Chalimbana said some DEC officers were guarding Mr Chilumbi's bed

at the hospital

.
DEC public relations manager, John Nyawali said in an interview that the commission officers in Ndola had sent the two condoms to the drugs and food laboratory in Lusaka for analysis.
The liquid was taken to the laboratory to determine whether the contents were drugs or not.
He said until the results were obtained, Mr Chilumbi was not free to go home so that he could assist with investigations.